Turku, Finland - Summer 2008
NEWS
February 28, 2016
Time flies when you are having fun!  It has been a while since my last update. The summer was extremely busy with many young recently planted trees suffering from often hot and dry weather.  Without some emergency irrigation we could have said goodbye to most of our newly planted short rotation coppice experiment.
More recently, I have a new paper out continuing from my PhD work in tropical dendroecology. In this paper, we validate the annularity of tree rings in A. Robusta and A. cunninghamii N. in Queensland. Subsequently, we  study patterns in tree growth and ages using the tree ring data to gain insights into the effects of site conditions and disturbance on forest structure.  Since detailed historical records are rarely available, tree rings can be key to unravelling present day variation in tropical forests structure and composition.  Find it here
Tree measurements for aboveground biomass estimation in IDENT Freiburg are underway and we have a great student from Bordeaux, Leana Gooriah (who is originally from Mauritius!), working with us and also developing her own project on aboveground complementarity in light capture.
Finally, I am part of a group of scientists at the University of Freiburg with a shared interest in the response of terrestrial ecosystems to global changes such as drought and N deposition. We have been working hard on setting up an experiment here at the FReiburg Experimental Ecology research area (FREE) which is the offspring of DroughtNet and NutNet.  We have made great progress and I include some recent pics of the posts for the rain-out shelters (roofs). Tobias Gebauer in our group (Geobotany, University of Freiburg) came up with the great idea of using the posts that are installed for vineyards. Our group (Geobotany: Nock, Gebauer, Scherer-Lorenzen) is happy to be cooperating with Christiane Werner , Maren Dubbert, Frederik Wegener and Angelica Kübert from the Chair in Ecosystem Physiology.
June 30, 2015
Interesting article on the changing role of forests in the global carbon cycle in the face of climate change: http://www.nature.com/…/the-hunt-for-the-world-s-missing-ca…
However, it is a pity that once again the insights that tree ring approaches yield into long-term trends in growth and in turn the role that tropical forests may play in slowing or accelerating climate change have been overlooked (see the info-graphic below: "ways to measure").  I am thinking of work by myself, as well as contributors such as:  P. Baker, P. Zuidema, R. Brienen, P. Hietz.
April 27, 2015
This semester I have the pleasure of supervising two Bachelor students, Ludwig  and Victoria, who chose to do their Bachelor Arbeit in our group.  At my request they have prepared a short introduction to their projects below. Stay tuned for more details as their work progresses.
Hello everyone, I'm Ludwig Treuter. I'm 23 years old and originally hailing from Halle (Saale) in Saxony-Anhalt, Germany. Not long after the german reunification my family relocated to Stockholm, Sweden where I spent my childhood and adolescence before I moved to southwestern Germany for my biology studies at the University of Freiburg.  I'm interested in a broad range of questions, topics or areas of study, which is why, for instance, I concurrently studied geography for over a year.  After coming to the conclusion that the fields of botany, biomimetics, biogeography and global ecology are of particular interest to me, I decided to do my bachelor thesis at the the Institute of Geobotany at the University of Freiburg. In my bachelor project I am investigating hyperspectral reflectance of sunflower (Helianthus annuus L.) leaves with an ASD FieldSpec spectrometer, in addition to completing chemical analyses in the laboratory, to retrieve information about the foliar biochemical composition.
Hi, my name is Victoria Oezkent. I´m 21 years old and I´m from a small village called Rheinweiler (near Basel). I am currently studying Biology in Freiburg and I decided to do my Bachelor thesis in the Institute of Geobotany because it combines being outside and doing something productive. More precisely: the next 20- 30 days I am working on Bachelor thesis on tree growth and crown plasticity within the IDENT tree diversity experiment in Freiburg.
I am focusing on collecting data on height, diameter, crown diameter and live crown of fertilized and unfertilized trees. The question behind my work is whether there are differences between monocultures and mixtures of 2, 4 or 6 different species and what is the interaction between diversity and fertilization.
I´m very happy with my choice of the bachelor topic because I think that the importance of tree diversity of trees is—especially given the loss of species from many forests—a timely and important topic to research. While not measuring trees, I am normally busy with one of my many interests and hobbies like playing different instruments, riding horses, kayaking, scuba diving, photography, snowboarding, climbing, and I also love to travel!
January 1, 2015
In the past I have worked with a mobile canopy crane (http://www.esajournals.org/doi/abs/10.1890/07-0531.1) and I can say from first-hand experience that collecting data on aspects of canopy structure and leaf physiology in tall forests is tough.
While researchers have approached this challenge in many creative ways (stationary cranes, mobile cranes, rafts that sit on top of the canopy, climbing), I think that drones are going to be a "game changer" for canopy research. I am thus very interested in the application of drones in quantifying forest canopy – environment interactions. Together with fellow enthusiast Ian Seiferling, we have built a hexacopter that will initially be equipped with a digital camera for stereophotogrammetry of vegetation and forest canopies.  Nicknamed Mr. Perfect because of Ian's attention to detail (and as a cheeky reference to the wrestler from 1980s) , we have progressed from choosing a frame, motors, and speed controllers to conducting test flights. Here is a test flight Ian conducted in the fall of last year.
Ian is currently working on his PhD under the supervision of Dr. Raphael Proulx (UQTR) and Dr. Christian Wirth (U of Leipzig).
Mr. Perfect currently lives in Montreal, Quebec, Canada, and we hope to be up and flying some missions soon.
 October 1, 2014
 I am pleased to report that back in February I started preparations for making a move from UQAM in Montréal, Canada to Freiburg, Germany.  Our move was very successful (despite needing every hour of the last day before we were scheduled to fly) with nothing major broken (including two iMacs!).  My research here in Freiburg will be continuing with work I started in Montreal on experimental approaches to studying the linkages between tree diversity and ecosystem function. For more information please take a look at IDENT (http://www.treedivnet.ugent.be/ExpIDENT.html) and Michael Scherer-lorenzens long-running BIOTREE experiment in Thuringia, Germany (http://www.treedivnet.ugent.be/ExpBIOTREE.html).
Photo: IDENT, Freiburg – Spring, 2014
My wife Bess, my son Edwin and I arrived in April and hit the ground running with much work to do at the IDENT experiment which was planted last autumn. It has continued to be a busy summer but with administrative things all taken care I will be updating this page more often.
Finally, a big congratulations to my student Matt Follett (UQAM, Montreal) who submitted his first paper (on urban tree crown growth) this week and will be finishing his Masters this fall.  Way to go Matt!
January 17, 2014
A great way to start the year!
A letter I submitted to Science just before the holidays on urban forests and ecosystem services was published today. Find the letter and the interesting response by Boyd et al. here or on researchgate
December 16, 2013
3D Online herbarium? Check out this link to some examples from LSU
December 3, 2013
Our new article on using 3D cameras like the Microsoft Kinect or Asus Xtion to measure plant structure just went online
November 21, 2013
Greg Asner on remote sensing of tropical forests
October 1, 2013
More sneak peaks I came across of UAV research development going on at BCI in Panama, thanks STRI and Conservation Drones for sharing.
August 16, 2013
Back from a fantastic week spent at ESA in Minneapolis, Minnesota (view from the plane on departure)


Some highlights: 1) No power during "Managing the World's Forests as Complex Adaptive Systems". Speakers: E Filotas, S Levine, C Messier, K Puettmann and MW Cornett did a great job despite the lack of electrons.
2) Dining alone at Devil's Advocate I happened to meet Jonathan Dandois and we had some great conversation over some IPA about UAVs and remote sensing of canopy structure (drones). He just spent some time testing and collecting data at BCI in Panama this summer. Check out their site Ecosynth
High resolution photo online here
My plans are to start building a hexacopter over the long winter here in Montreal — stay tuned.
June 12, 2013
First results of our freezing rain study published!


available here
April 1, 2013
Our article on forest fire occurrence in Canada and climate change is still at the top of the most read list at IJWF.
February 1, 2013
A year or so ago my wife Bess forwarded my name to Julia Rothman as a possible contributor to a book on the mysteries of science.
The book is out and is receiving great reviews, including: Science.
My piece is entitled: How long can trees live? Sadly, it was not mentioned in the review.
full article available here
January 26, 2013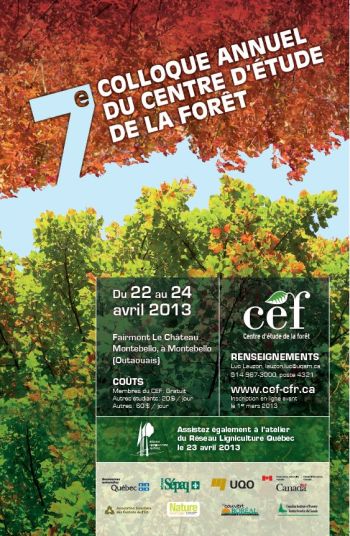 Abstracts submitted for the CEF colloq 2013. My oral presentation will focus on biomechanics and ice loading on branches. I have also submitted an abstract for a poster on the use of 3D cameras (e.g. MS Kinect, Asus Xtion) to measure plant architecture.
December 1, 2012
Excellent piece by Zuidema et al. arguing the value of long-term data sets on tropical tree growth and physiology for gaining insights into changes in tropical forest dynamics with climate change.