Turku, Finland - Summer 2008
NEWS
October 1, 2014
 I am pleased to report that back in February I started preparations for making a move from UQAM in Montréal, Canada to Freiburg, Germany.  Our move was very successful (despite needing every hour of the last day before we were scheduled to fly) with nothing major broken (including two iMacs!).  My research here in Freiburg will be continuing with work I started in Montreal on experimental approaches to studying the linkages between tree diversity and ecosystem function. For more information please take a look at IDENT (http://www.treedivnet.ugent.be/ExpIDENT.html) and Michael Scherer-lorenzens long-running BIOTREE experiment in Thuringia, Germany (http://www.treedivnet.ugent.be/ExpBIOTREE.html).
Photo: IDENT, Freiburg – Spring, 2014
My wife Bess, my son Edwin and I arrived in April and hit the ground running with much work to do at the IDENT experiment which was planted last autumn. It has continued to be a busy summer but with administrative things all taken care I will be updating this page more often.
Finally, a big congratulations to my student Matt Follett (UQAM, Montreal) who submitted his first paper (on urban tree crown growth) this week and will be finishing his Masters this fall.  Way to go Matt!
January 17, 2014
A great way to start the year!
A letter I submitted to Science just before the holidays on urban forests and ecosystem services was published today. Find the letter and the interesting response by Boyd et al. here or on researchgate
December 16, 2013
3D Online herbarium? Check out this link to some examples from LSU
December 3, 2013
Our new article on using 3D cameras like the Microsoft Kinect or Asus Xtion to measure plant structure just went online
November 21, 2013
Greg Asner on remote sensing of tropical forests
October 1, 2013
More sneak peaks I came across of UAV research development going on at BCI in Panama, thanks STRI and Conservation Drones for sharing.
August 16, 2013
Back from a fantastic week spent at ESA in Minneapolis, Minnesota (view from the plane on departure)


Some highlights: 1) No power during "Managing the World's Forests as Complex Adaptive Systems". Speakers: E Filotas, S Levine, C Messier, K Puettmann and MW Cornett did a great job despite the lack of electrons.
2) Dining alone at Devil's Advocate I happened to meet Jonathan Dandois and we had some great conversation over some IPA about UAVs and remote sensing of canopy structure (drones). He just spent some time testing and collecting data at BCI in Panama this summer. Check out their site Ecosynth
High resolution photo online here
My plans are to start building a hexacopter over the long winter here in Montreal — stay tuned.
June 12, 2013
First results of our freezing rain study published!


available here
April 1, 2013
Our article on forest fire occurrence in Canada and climate change is still at the top of the most read list at IJWF.
February 1, 2013
A year or so ago my wife Bess forwarded my name to Julia Rothman as a possible contributor to a book on the mysteries of science.
The book is out and is receiving great reviews, including: Science.
My piece is entitled: How long can trees live? Sadly, it was not mentioned in the review.
full article available here
January 26, 2013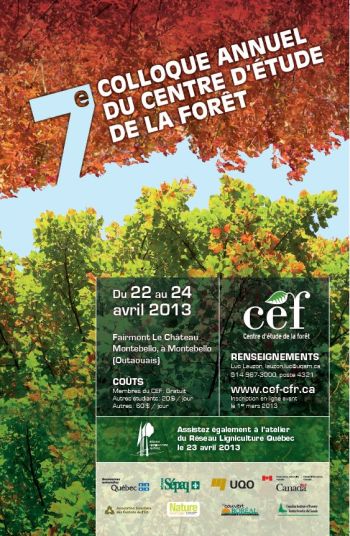 Abstracts submitted for the CEF colloq 2013. My oral presentation will focus on biomechanics and ice loading on branches. I have also submitted an abstract for a poster on the use of 3D cameras (e.g. MS Kinect, Asus Xtion) to measure plant architecture.
December 1, 2012
Excellent piece by Zuidema et al. arguing the value of long-term data sets on tropical tree growth and physiology for gaining insights into changes in tropical forest dynamics with climate change.